IO-Link Sensor to Cloud
In this blog post we will show you an easy way to connect IO-Link sensors to any cloud like Microsoft Azure, Alibaba Cloud, Amazon Web Services (AWS), IBM Cloud, Google Cloud Platform or SAP Cloud. This solution works with all 12.000 IO-Link sensors as well as actuators of any vendor like for example IFM, Turck, Sick, Siemens, Balluff, Pepperl+Fuchs, and many more.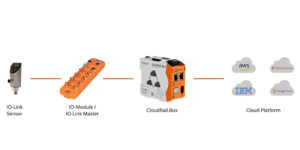 IO-Link to Cloud Gateway
To connect IO-Link sensors with the cloud, we will use the CloudRail.Box, which is the perfect solution for this use case. This edge gateway works with all major cloud providers as well as all IO-Link sensors. Another benefit is the underlying Plug&Play approach. The CloudRail.Box automatically detects connected IO-Link Sensors and IO-Link Masters and configures them fully automatically. This means you don't need to deal with any fieldbus or the specifics of the IO-Link protocol. Just plug-in the master and sensor, select the cloud, and get the sensor data into your cloud platform in less than a minute. Here is a quick video to show you how it works:
The Required IO-Link Devices and Gateways
To use the solution you need of course an IO-Link sensor. It doesn't matter from which vendor — they just work. Moreover, an IO-Link Master is required. A list of compatible masters can be found here. We recommend using an IO-Link master from IFM or Turck. Besides all the cables, the last device you'll need is the CloudRail.Box, which basically acts as a gateway between your IO-Link sensor and the cloud. It is an industrial grade device, which can be mounted on a DIN rail and runs with 24 volts. One of the ethernet ports goes towards the cloud / internet and the other one to your IO-Link masters.
Edit: We've recently introduced CloudRail Starter Kits. These kits include the CloudRail.Box, an IO-Link Master, an IO-Link sensor for several use cases (for example vibration, RFID, temperature), power supply, and all necessary cables.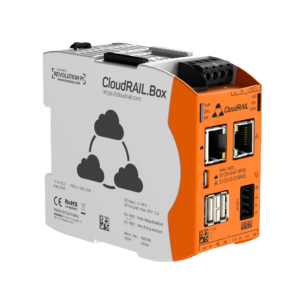 On the cloud side, you have the choice between all major clouds like AWS or Azure. Most providers offer a free test account, so getting started there is quite easy. Check our documentation on how to set-up your cloud account and link it to CloudRail.
Learn More About IO-Link to Cloud
To learn more about the CloudRail solution for industrial IO-Link sensors, please click here.