CloudRail partners with Deloitte to build the connected shopfloor for Smart Factories
CloudRail, a leading provider of cloud-based machine connectivity, has partnered with Deloitte, the world's largest professional services firm, to deliver scalable smart manufacturing solutions for German and North American markets. In the context of smart manufacturing, this partnership will allow the design, delivery and operation of industrial IoT solutions on a global scale.
"Besides our fast connectivity and remote device management capabilities, close collaborations with system integrators are essential for IoT projects that require global delivery capabilities.", says Philip Weber, VP of Alliances at CloudRail, "this partnership matches perfectly for CloudRail as Deloitte's holistic digitization approach integrates the machine data we deliver to cloud-services into the company-wide services used by industrial manufacturers."
As part of the collaboration, Deloitte has introduced demonstrators in several Smart Factory experience centers, including Düsseldorf and Montreal. These showcases illustrate the seamless integration of OT equipment through OPC UA (Greenfield) and retrofitted sensors (Brownfield) , AWS IoT services, and CloudRail's cloud-based device management solution.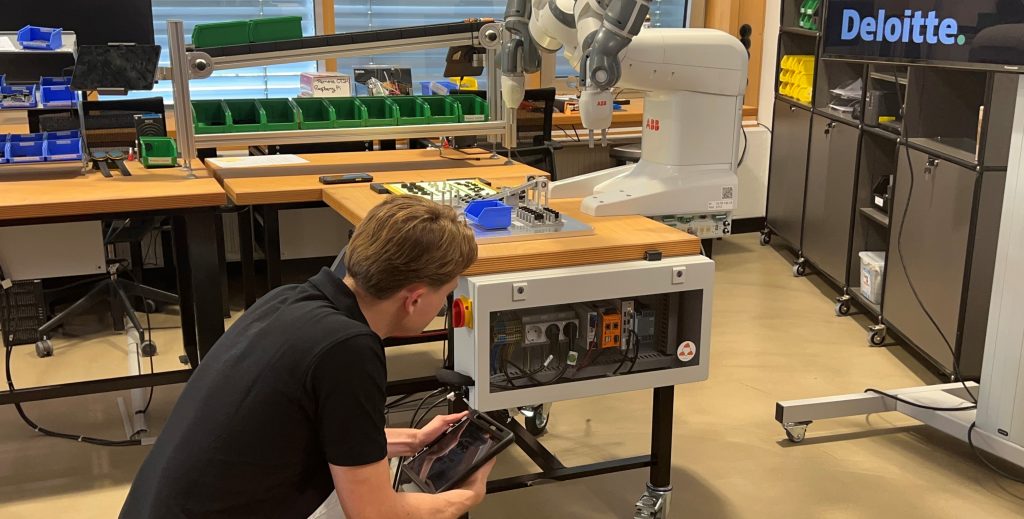 At Hannover Messe 2023, Deloitte demonstrated several Smart Factory capabilities using the CloudRail.Box Max edge gateway, which provides fully managed edge deployments of AWS IoT Greengrass V2 connecting the cobot to cloud-based smart manufacturing solutions.
"CloudRail's managed gateway solution in combination with an IoT edge runtime such as AWS IoT Greengrass is a game-changer for the connected shopfloor.", says Kai-Uwe Hess, Smart Manufacturing leader at Deloitte, "With CloudRail as a partner, we are ideally positioned to help manufacturers roll out Smart Factory capabilities such as condition monitoring, anomaly detection, and AI-based quality sensing on a global scale."
CloudRail's device management and managed edge runtime combined with Deloitte's expertise in building globally scalable Smart Factory networks enables holistic AWS-based IIoT solutions. CloudRail's connectivity solution facilitates the collection and analysis of data from a wide range of sensors, even in challenging environments. This allows manufacturing companies to implement real-time machine monitoring, make informed decisions, optimize their processes, drive operational efficiency, and reduce costs. Furthermore, CloudRail provides global gateway fleet management, including remote feature updates and automatic security patches.
In conclusion, CloudRail's expertise in machine connectivity combined with Deloitte's focus on smart manufacturing, supply chain operations, and predictive maintenance, enables the delivery of tailored end-to-end solutions for the managed shopfloor. This partnership is an exciting development for the world of smart manufacturing, as it empowers manufacturing companies to achieve more operational efficiency and increased profitability at a global scale.
Visit Deloitte's website for more information on The Smart Factory @ Düsseldorf.