Unified APIs for Xamarin
Xamarin is one of the major platforms to develop cross platform applications. It lets developers use the same code base to develop native applications for Android, iOS, Windows and more. Due to this fact the platform attracted over 1.4 million developers. While Xamarin makes it easy to develop cross platform, it's hard to develop well connected application on the platform. Most apps today rely on several integrations with 3rd party service like Dropbox, Stripe, Facebook and many more. Native app developers can leverage several solutions and well maintained libraries to integrate these services very easily. On Xamarin it's a pain, since the only easy way doing it are so called Components, which only exist for a few services and are usually not well maintained. Of course there is also the possibility to call APIs directly, but this is so error prone and time consuming that most developers don't consider it an option.
CloudRail Brings Unified APIs to Xamarin
Today API Integration Provider CloudRail released a version for Xamarin developers which solves this problem. The service, which is already well known among native Android and iOS developers, brings its complete portfolio of integrations on the Xamarin platform. This includes a constantly growing number of APIs like Google Drive, Paypal, Stripe or Twitter which are now accessible for all Xamarin developers.
But CloudRail even goes further in the simplification of APIs. With so called Unified Interfaces, CloudRail bundles multiple services of the same kind into an universal API. This allows developers to integrate for example Dropbox, Google Drive, OneDrive and Box via the exact same API.
Using this feature, developers can integrate all providers of the respective category in less time they would actually need for just one. Moreover CloudRail keeps these integrations up-to-date to protect developers from breaking integrations, which is currently a big problem in the industry.
How to Use CloudRail for Xamarin
To use CloudRail you must add the respective dll file which you can download here:
In Visual Studio, under your solution go to the References and right-click, you should get an option for Edit References.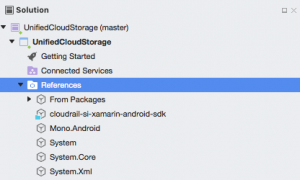 After clicking the Edit References you should get a Pop-up. In the Pop-up go to the .Net Assembly Tab and Browse for the DLL file you want to add (cloudrail-si-xamarin-android-sdk.dll or cloudrail-si-xamarin-ios-sdk.dll). After you have added it you should see it in Selected references.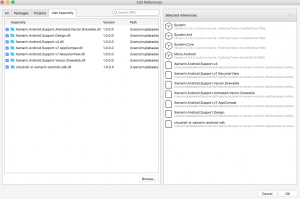 Under references you should see the CloudRail SDK.

If you are new to CloudRail you need to signup to our developer portal in order to obtain a free license key. This sample illustrates how easy it is to use CloudRail in general.
Learn More About CloudRail
Just a few more words about CloudRail:
1) It's free without any limitations. There are several paid plans as well which add additional features.
2) We don't touch the data. All data flows P2P between your app and e.g. Dropbox and never touches a CloudRail server. This means no additional SPOF, no data privacy issues nor performance problems.
3) We are here to stay. We know it's a hard decision to rely on a solution like this. But maybe these arguments will help you: We've been in the API industry for more than 5 years, over 50 million users already rely on CloudRail every day and big names like Cognizant or the British NHS already trust in the solution.
Learn more about CloudRail or discover all our integrations.