The New CloudRail Portal
Today we are happy to announce the launch of our brand new CloudRail Portal to all our users. It is a great addition to our existing software libraries and comes with exciting new features. The Portal helps you to keep your integrations up-to-date and gives insights into which APIs your users actually consume.
API Change Management
Our users already love the fact that the abstraction layer between the app interface and the provider API provides not only an easy way to integrate the services, but also a consistent interface. If a provider changes their API, CloudRail does the hard job of updating the integration. All you need to do is replace the CloudRail SDK with the latest version. Since there are no further code changes necessary, this is quite a small task compared to adapting to the changed API. But how to recognize that an API has changed? Well in the past you were either forced to follow the announcements of the providers, which can be pretty frustrating with a huge number of different integrations. An alternative was to follow updates to the CloudRail SDK, but then you never knew if you are affected by a change or not without reading lengthy release notes.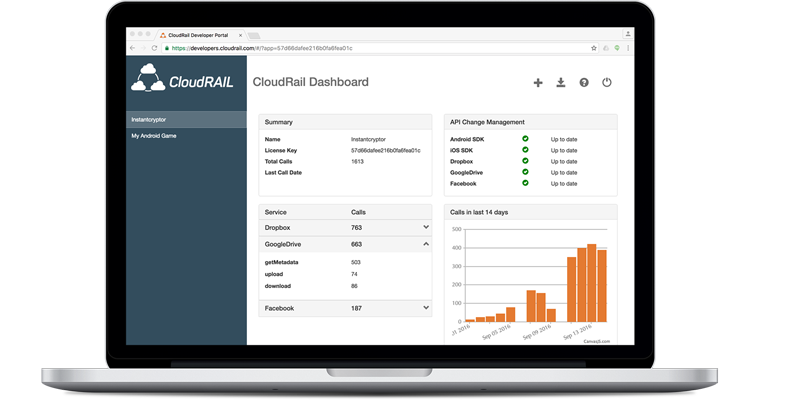 This all changes with our latest feature called API Change Management. We not only monitor all APIs for changes and update the integrations, but also notify you in case you are affected. Your SDKs send us data about which integrations are used by your customers. This allows us to compare services and even functions inside of these services with any changes or bugs. So let's say the Facebook API changes the way an email address is transferred. CloudRail is then able to fix that integration, release a new SDK version and just notify users which use Facebook and retrieve email addresses via the API. If you just use Facebook to get names and birth dates, you are not affected and thus not notified.
This feature is kind of a "don't worry guarantee" for your integrations. CloudRail keeps track of them, does the hard work and pings you if you need to become active.
API Statistics
Another new feature which comes with the portal are API statistics. CloudRail is a great way to integrate a whole category of services into your app. For example with the Cloud Storage API you can integrate Dropbox, Google Drive, Microsoft OneDrive and Box, which are basically all major cloud storage providers. Your users are happy because they can choose their favorite one. But have you ever wondered how many of your users are Dropbox over Google customers? The new statistics give you insights into all APIs you've integrated in your app. It shows you the number of calls for each service over the last two weeks. Those statistics are even available down to the functions level. So you can see the calls of e.g. upload() compared to download() of OneDrive. Of course all data is still transferred directly between your app and the provider. The SDK just sends completely anonymized statistics to the CloudRail server. This is a great way to understand your users and allows to identify new features or adjust your marketing activities.
Get Started Today
The portal is available for all our users as of today. You can sign-up for free on https://developers.cloudrail.com. Please make sure to update the SDK in your app to the latest version and set the license key which you get via the portal in the SDK configuration.
Any feedback? I'm looking forward to hear from you.