Dropbox Android SDK for API v2: How to Keep minSDKVersion 10
Dropbox deprecated their API v1 a while ago and it's time to migrate to their new v2 API. For Android developers they unfortunately set the minSDKVersion to 19 which means that you either drop the support for older Android versions like Gingerbread (2.3), Honeycomb (3.0, 3.1, 3.2), Ice Cream Sandwich (4.0), Jelly Bean (4.1, 4.2, 4.3) or use an alternative integration method like CloudRail. This tutorial gives you an overview how to keep minSDKVersion 10 while leveraging the new Dropbox API v2.
Why not just using minSDKVersion 19?
Sure, that is an option. Android 4.4 alias KitKat has been released end of 2013 and at some point old versions need to be dropped in favour of new features. Unfortunately this is difficult for Android since device manufacturers are not famous for their fast update policy.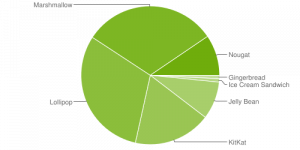 This results in old Android version being used for a very long time. According to the official statistic by Google, over 10% of all Android users are still on a version older than 4.4 and thus not supported by the official Dropbox SDK for Android (v2). If your app targets not so well developed markets this number will even be higher.
How to support Android 2.3, 4.0, 4.1, 4.2, 4.3 and Dropbox v2 API?
The answer is the 3rd party SDK from CloudRail. This SDK for Android uses the Dropbox v2 API and just requires minSDKVersion 10 (API Level 10). It supports all major Dropbox functions and can be used for free. Get the SDK here.
What other benefits do I get with CloudRail
Integrating APIs with CloudRail comes with many benefits like for example unified APIs. In case you want to support other cloud storage providers like Google Drive or OneDrive, CloudRail allows you to integrate them via the exact same API. So the function upload works for example exactly the same for Dropbox as it does for Box and all the others.

Moreover CloudRail keeps your integration up-to-date. So in case Dropbox will switch to API v3 eventually, CloudRail can update the integration for you and keeps the API towards your app consistent. Concerned about data privacy or adding a SPOF? No worries, non of your data will ever touch a CloudRail server, it's P2P. Lern more about CloudRail.